Entry approval letter is a written approval from the Immigration Department that allows an individual foreigner or a group of foreigners to enter Vietnam once or many times. The contents of classification, conditions and procedures for applying for an entry approval letter will be presented by Nhi Gia in this article.

Sample entry approval letter for foreigners
What is an entry approval letter - is a common question from many organizations and enterprises that are in need and have difficulties when applying for foreigners' entry into Vietnam. Entry approval letter is also known with many other names such as entry permit letter, entry request letter, entry invitation letter, etc. for foreigners. Name of the entry letter in English Vietnam approval letter, Vietnam entry permit.
The form of Vietnam entry approval letter for foreigners is form NA2 of the Ministry of Public Security - Immigration Department, including the following information:
Information of the person entering the country: Full name, date of birth, passport number.
Information of the sponsoring company.
Purpose or reason for entry.
Place to receive Vietnam visa.
Expected date of entry and exit.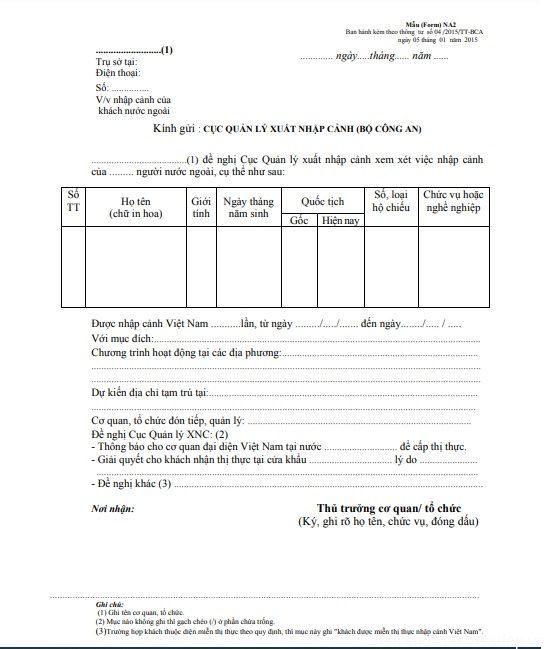 Form NA2 to request the Immigration Department to consider entry for foreigners
Conditions for granting and classification of entry approval letter
Applying for an entry approval letter is the first step in the process of applying for a Vietnam visa for foreigners. So what are the conditions for granting an entry approval letter and classification of entry approval letter?
Conditions for applying for an entry approval letter
Conditions for foreigners to enter Vietnam include:
Having a passport or valid international travel document.
Having an agency, organization or individual in Vietnam to invite or sponsor.
Not subject to the case of entry ineligibility. Cases where entry is not eligible:
Children under 14 years old and unaccompanied by a parent, guardian or authorized person.
Forging papers, making false declarations in order to be granted valid papers for entry, exit and residence.
People suffering from mental illnesses or infectious diseases that pose a danger to public health.
Being expelled from Vietnam for less than 03 years from the effective date of the expulsion decision.
Being forced to leave Vietnam for less than 06 months from the effective date of the decision on forced exit.
For disease prevention and control.
Due to natural disasters.
For national defense, security, social order and safety.
In the following cases when applying for a visa, foreigners must have documents proving the purpose of entry:
In case of investment, having documents proving the investment in Vietnam;
In case of practicing laws in Vietnam, having a license to practice;
In case of labor, having a work permit in accordance with the Labor Code;
In case of studying, having acceptance letter from the school or educational institution of Vietnam.
Types of entry approval letters
Depending on the purpose of entering Vietnam, the place to receive the Vietnam visa and the duration of the visa granted to foreigners, the entry permit letter has specific classifications as follows:
According to the location to receive visa: International airport border gate, land border gate, waterway border gate, Vietnamese Embassy/Consulate in other countries.
According to the purpose of entering Vietnam: work, investment, tourism, labor, studying abroad, visiting relatives, etc.
According to the visa duration and the number of times to enter Vietnam: 1 month, 3 months, 6 months, 1 year/1 time or many times.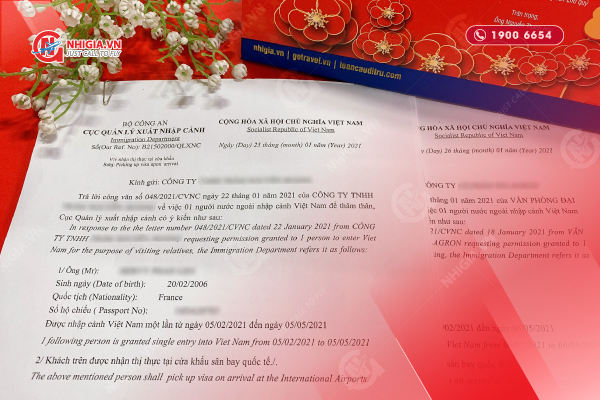 Sample entry approval letter to visit relatives
Procedures for applying for an entry approval letter
Normally, the entry approval letters shall be made by individuals, organizations and enterprises that invite and sponsor foreign citizens.
Note: Due to the complicated situation of the Covid epidemic in the world, Vietnam and many other countries have implemented policies to restrict entry to prevent the spread of the disease. Accordingly, the procedures for applying for an entry approval letter are much more complicated than in the past.
For details on the procedures and application for an approval letter to enter Vietnam during the epidemic prevention period, please contact 84 906 736 788. Our Vietnam visa experts will support you wholeheartedly!
Documents to apply for an entry approval letter
Depending on the purpose of entry into Vietnam, the requirements for the entry documents of foreigners are different:
Passport number or colored scanned copy of passport.
Date of entry.
Full name.
Date of birth.
Application form for entry for foreigners according to form NA2.
Some documents as prescribed by the Immigration Department.
Agencies receiving the applications for entry approval letter
Submit applications for entry approval letters for foreigners at the Vietnam Immigration Department or the Immigration Offices of the provinces and cities. Immigration Departments of Hanoi and Ho Chi Minh City:
Immigration Department in the North: 44-46 Tran Phu, Ba Dinh, Hanoi.
Immigration Department in the South: 333-335-337 Nguyen Trai, District 1, Ho Chi Minh City.
Working time:
Morning: 8:30 - 11:30
Afternoon: 13:30 – 16:00
The processing time for the entry approval letter is from 5-7 working days, excluding Saturdays, Sundays and holidays.
Fee for applying for an entry approval letter
The fee for applying for an entry approval letter is not fixed. Because the fee depends on the length of stay and the desired number of entry times of the foreigner.
State fee for stamping visa shall be paid in USD:
+ Valid for single entry: 25 USD/visa.
+ Valid for 3 months & multiple entry: 50 USD/visa.
+ Valid from 03 to 06 months: 95 USD/visa.
+ Valid from 06 months to 01 year: 135 USD/visa.
+ Valid from 01 year to 02 years: 145 USD/visa
+ Valid from 02 years to 05 years: 155 USD/visa.
Note: In cases where fees and charges have been paid but the applicant is not eligible for relevant documents or refuses to receive the results of application, the fee and fee collecting organizations will not have to refund the paid fees and charges.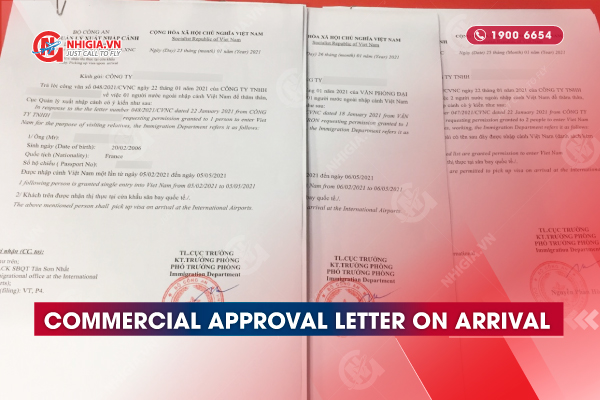 For procedures for entry approval letter, please call 84 1900 6654
Difficulties when applying for an entry approval letter yourself
To obtain an official letter to sponsor the foreigner's entry into Vietnam, the inviting or sponsoring agency/organization must carry out the procedures for approval at the immigration agency. However, this is not simple. Nhi Gia would like to summarize some common difficulties encountered when enterprises apply for entry approval letter:
Having difficulty in contacting immigration agencies to track results and resolve problems arising in the application.
Having difficulty when you need an emergency entry approval letter.
It takes a lot of time to travel, learn about entry and exit laws and administrative procedures.
It is expensive due to repeated applications when you apply not in accordance with the requirements of the immigration agencies.
Not all agencies and organizations can apply for an entry approval letter, that's why many agencies and organizations often have to work with a third party, which is travel agents and companies or companies specializing in procedures for foreigners.
Instead of doing it yourself, you should use the services from the Vietnam visa service companies. However, it is not easy to find a good and reputable unit in the current context of "good and bad mingle".
Please contact 84 1900 6654 or send a service request to info@nhigia.vn. Nhi Gia will advise and send a quotation for an entry approval letter application.
Entry approval letter service in Nhi Gia
Understanding the concerns of enterprises when carrying out administrative procedures, Nhi Gia Company provides fast and economical entry approval letter service.
With the entry approval letter, Nhi Gia is confident and committed to customers
Effective: Successfully applying for + 1,000,000 entry applications for foreigners.
Convenient: Bringing a perfect service with a closed process.
Economical: Reasonable cost for each case and optimal implementation time.
Fast: Supporting all cases, nationalities and urgent needs. Obtaining results from 1-3 days, even by the hour of the day.
Prestigious: Having more than 16 years of experience in handling entry approval letter applications for large domestic and foreign companies, and at the same time, being one of the leading units in Vietnam to carry out the procedures and documents for foreigners.
Transparent: Clear contracts and correct VAT invoices for services.
Professional: Giving timely free consultation, having visa specialists who are fluent in foreign languages.
Diversified services: Performing other services for foreigners: visa extension, work permit, temporary resident card, criminal record certificate, consular legalization, marriage certificate with Vietnamese citizens, etc.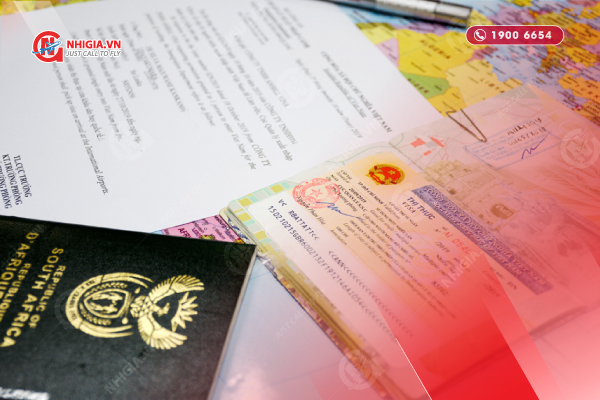 Nhi Gia – all-in-one entry approval letter service
Order of steps to apply for an entry approval letter in Nhi Gia
We will complete the Vietnam entry approval letter procedures in the following order:
Step 1: Receive customer information. Customers only need to provide basic information about foreigners and enterprises.
Step 2: Prepare documents, notarized translation of documents for customers.
Step 3: Contact and submit applications to the competent authority on behalf of the customers;
Step 4: Follow up and receive the results of applications to send to customers.
Note: At the place where the foreigner receives the visa noted on the entry approval letter, the customers will fill out and sign the NA1 form, paste a photo in the form, then attach a copy of the entry approval letter and passport, pay fees to customs officers for stamping visa on passport.
For more detailed information about entry approval letter and related procedures and documents, please contact us directly via hotline 84 1900 6654 or info@nhigia.vn for the fastest advice and quotation.