The Decree No. 152/2020/ND-CP taking effect from February 15, 2021 regulates the cases of exemptions from procedures for Vietnam work permits in 2021. The Decree specifies 13 cases of foreign workers who are not subject to work permits and 7 subjects who are exempted from work permits.
13 cases of foreign workers who are not subject to Vietnam work permits
The following subjects shall carry out procedures for applying for certification of not being subject to work permits (synonymous with exemption from work permits), specifically:
Head of the representative office or project manager or the person being responsible for the main activities of international organizations and foreign non-governmental organizations in Vietnam.
The person entering Vietnam for a period of less than 3 months to handle complicated technical or engineering situations that affect or threaten the production and business activities that can not be handled by such Vietnamese experts and Foreign experts currently in Vietnam.
The cases under the provisions of an international treaty to which the Socialist Republic of Vietnam is a party.
Moving within enterprises operating in 11 service sectors in Vietnam's Schedule of Specific Commitments in Services to the World Trade Organization, including: business, information, construction, distribution, education, environment, finance, health, tourism, entertainment and transportation.
Entering Vietnam to provide professional and technical advisory services or perform other duties for research, development, evaluation, monitoring & assessment, management and implementation of the programs, projects using official development assistance (ODA) sources according to regulations or agreements in the ODA international treaties signed between Vietnamese and foreign competent agencies.
Being licensed by the Ministry of Foreign Affairs to operate information and press activities in Vietnam according to the provisions of laws.
Being sent to Vietnam by competent foreign agencies or organizations to teach and research at international schools under the management of foreign diplomatic missions or the United Nations; establishments and organizations established under the agreements that Vietnam has signed and acceded to.
Being volunteers defined in Clause 2, Article 3 of this Decree.
Entering Vietnam to implement international agreements which are signed by agencies or organizations at the central or provincial level according to the provisions of laws.
Being pupils and students studying at overseas schools and training establishments with internship agreements in agencies, organizations and enterprises in Vietnam; trainees and apprentices on Vietnamese ships.
Having diplomatic passports to work for state agencies, political organizations, socio-political organizations.
Being the person taking the responsibility for establishing a commercial presence.
Being the foreign worker certified by the Ministry of Education and Training to enter Vietnam for teaching and research.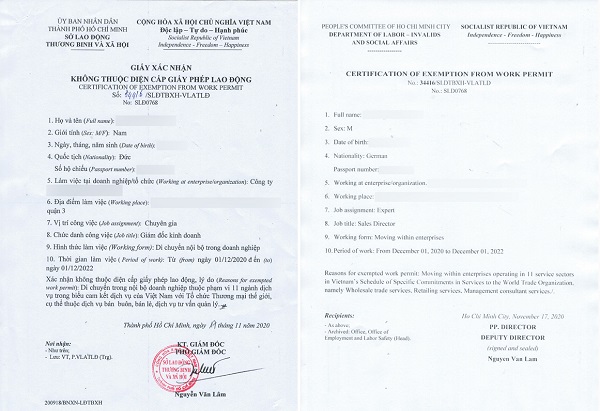 7 subjects who are exempted from Vietnam work permits
7 cases are allowed to apply for confirmation of Vietnamese work permit exemption, specifically:
Entering Vietnam for a period of less than 03 months to offer services for sale.
Being a foreign lawyer who has been granted a law practice license in Vietnam in accordance with the Law on Lawyers.
Being foreigners who marry Vietnamese people and live on the Vietnamese territory.
Being the owner or capital contributor of a limited liability company with a capital contribution value of VND 3 billion or more.
Being the Chairman of the Board of Directors or a member of the Board of Directors of a joint stock company with a capital contribution of 3 billion VND or more.
Entering Vietnam to work as a manager, executive director, expert or technical employee for a working time of less than 30 days and not more than 03 times a year.
Being relatives of members of foreign representative missions in Vietnam specified at Point l, Clause 1, Article 2 of this Decree.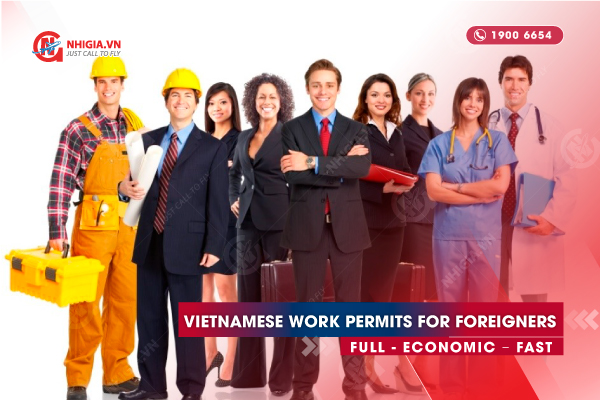 Procedures for applying a certification of not subject to a Vietnam work permit
Written request for certification that the foreign worker is not subject to a work permit, form No. 09/PLI;
Health certificate;
The written approval of the need to use foreign workers, except for cases where the need to use foreign workers is not required;
A certified copy of the passport, which is still valid according to the provisions of laws;
Documents proving that the foreign worker is not subject to a work permit;
Note: The above documents, if issued by foreign countries, must be consular legalized, translated into Vietnamese and certified in accordance with the laws.
Within 05 working days from the date of receipt of a complete application for certification of not subject to a work permit, the competent authority will issue a written confirmation of not subject to a work permit. In case of not confirming, there will be a document stating the reason.
If you want to use the work permit services for new-issuance, re-issuance, renewal, and exemption of Vietnamese work permits for foreigners. Please contact Nhi Gia via the call center 84 1900 6654, a skilled work permit specialist will give you wholehearted support!
>> Read more: Term of Vietnam work permits for foreigners according to new regulations