The State of Vietnam promulgates many regulations to ensure the rights and benefits of foreigners entering, transiting, residing and leaving Vietnam. At the same time, foreigners must also comply with their obligations and responsibilities as prescribed and respect the laws of Vietnam. Let's learn about the rights and obligations of foreigners being granted with a temporary residence card together with Nhi Gia.
Rights and benefits of foreigners being granted with a temporary residence card
A foreigner who is granted with a temporary residence card has the following rights and benefits:
+ After being granted with a legal temporary residence card, foreigner have the right to sponsor his spouses, children under 18 years old to enter Vietnam to live with him, provided that the temporary residence card is still valid, and the inviting or guaranteeing agencies and organizations agree.
+ The holder of the temporary residence card is exempted from visa upon exit or entry within the validity period of the temporary residence card.
In addition, during the time of entering, exiting, transiting, or residing in Vietnam, foreigners also enjoy many other benefits:
+ To have their life, honor, property and legitimate rights and interests protected under the Vietnam laws while they are residing in the territory of the Socialist Republic of Vietnam;
+ People who are legally residing in Vietnam can travel around the territory of Vietnam, combine tourism, visit relatives and medical treatment without asking for permission; entry into a prohibited area or travel or residence restricted area shall comply with the provisions of laws;
+ Crew members on ships and boats entering Vietnam may return to shore within the province or centrally-controlled cities where the ship or boat is anchored; In case of going out of the above scope or exiting the Vietnamese territory through other checkpoints, they will be considered for visa issuance;
+ Spouses, children accompanying the members of diplomatic missions, consulates, representative offices of international organizations affiliated to the United Nations, and representative offices of intergovernmental organizations during the term of their mission are entitled to work if they have a work permit, except for the case not subject to a work permit; to study if there is a written admission from the school or educational institution;
+ Persons studying at schools or educational institutions according to international treaties or international agreements may find a job also if they have written permission from schools or educational institutions;
+ Stateless persons permanently residing overseas may enter Vietnam for tourism or visiting relatives;
+ Stateless persons residing in Vietnam wishing to exit shall be considered for granting a document valid for international travel by the Ministry of Public Security.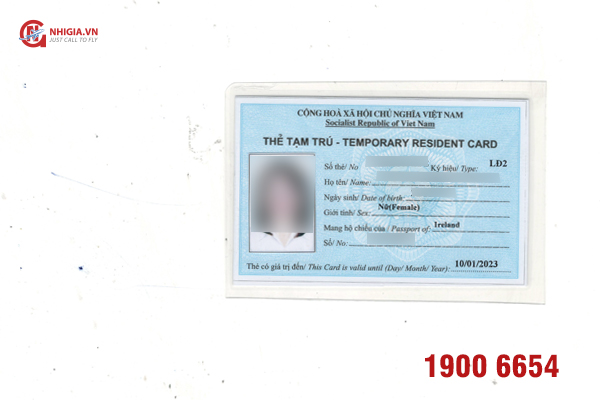 Obligations of foreigners being granted with a temporary residence card
Foreigners being granted with a temporary residence card, during their entry, exit or residence in Vietnam, have the following obligations:
+ Comply with the laws of Vietnam;
+ Respect the cultural traditions, customs and practices of Vietnam;
+ Behave suitably for the entry purposes in Vietnam;
+ When traveling, they must take along the passport or documents valid for international travel, papers related to their residence in Vietnam, and must present the same at the request of the competent authority;
+ Foreign permanent residents, if leaving to permanently reside in another country, must return the permanent residence card to the immigration control unit at the border gate.
The above are the rights and obligations of foreigners being granted with a temporary residence card in Vietnam. Foreigners should pay attention to be able to enter, exit, transit, or reside in Vietnam in the most convenient way.
If you need support for services on temporary residence card, entry approval letter, visa extension, Vietnam work permit, etc. for foreigners, please contact Nhi Gia via the call center 84 1900 6654. A team of experienced specialists will support you wholeheartedly!
>> See more: Emergency entry services for foreigners