In the increasingly complicated situation of the Covid-19 epidemic in Vietnam, in order to meet the needs of customers during the epidemic period, Nhi Gia supports an entry services package to enter Vietnam and reservation services for quarantine hotel for those foreigners who need to stay at a hotel upon their request. Contact 84 1900 6654 for timely support!
Subject of priority to be supported in booking quarantine hotels
Previously, the Government issued regulations on foreigners and Vietnamese who are allowed to enter Vietnam during the Covid-19 epidemic prevention and control period, according to which, such subjects that are allowed to enter Vietnam includes:
Foreigners who are experts, entrepreneurs, investors, business managers, skilled technical workers, representatives of companies located in Vietnam, etc.
Overseas Vietnamese, include: overseas students, workers with expired contracts, Vietnamese businessmen, Vietnamese intellectuals, Vietnamese citizens on short-term exit and being stranded, etc.
Also according to the regulations, right after entry, the people on entry must carry out charged concentrated medical quarantine at hotels on the list designated by the Department of Health of the province/provincial city.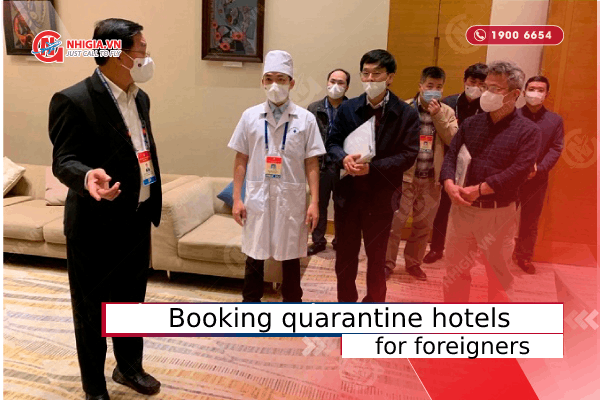 At the same time, in order to effectively support epidemic prevention and control, on March 20, 2021, the Ministry of Health issued the Decision No. 1246/QD-BYT on the issuance of "Interim guidance on pay-to-​stay Covid-19 quarantine at hotels" applicable to quarantined subjects, including:
Persons undergoing medical quarantine at a centralized quarantine facility wish to switch to concentrated quarantine at a hotel in the same area and voluntarily pay for their accommodation fees and other related service charges of the hotel.
Persons who are designated having to undergo concentrated medical quarantine at border gates or airports yet wishing to be isolated at hotels and voluntarily pay for their accommodation fees and other related service charges of the hotel.
7 requirements for quarantine hotels according to the standards of the Ministry of Health
Clients entering Vietnam will have the right to choose a quarantine point on the list of hotels to be used as quarantine places according to their wishes and financial ability. All quarantine hotels must meet the following requirements:
Only servicing for the purpose of quarantine and prevention of COVID-19, not for other purposes.
Ensure essential living conditions: electricity, water, toilets, bathrooms.
Ensure ventilation.
Ensure security and safety.
Ensure fire and explosion prevention.
Ensure the convenience for travel, transportation of quarantined people, logistics & supply chain, and transportation of treated waste.
If possible, equip TV and internet for each quarantine room.
Combo immigration services for foreigners and quarantine hotel reservation services
In order to create favorable conditions for people to enter Vietnam, the National Steering Committee of COVID-19 Prevention and Control allows localities to prepare hotels and accommodation facilities to organize quarantine with charges for subjects who meet the entry conditions as prescribed.
Accordingly, Nhi Gia supports a full entry services package for foreigners and a 14-day quarantine hotel services according to the Government's directive.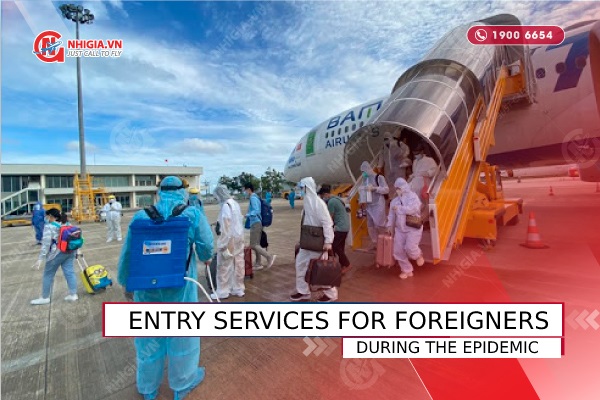 Nhi Gia supports ENTRY SERVICES FOR FOREIGNERS DURING THE EPIDEMIC
Convenience: 3-in-1 package including: immigration support - flight ticket booking - hotel reservation as prescribed.
Fast services: Simple working process, minimizing time and effort.
Prestige: Over 15 years of experience, successfully handling more than 1,000 entry records during the epidemic.
Savings: One-time quotation and no other costs.
Diversity of options: Provide a list of flights and hotels with diverse prices.
Free consultation: Consulting and answering all questions of customers 24/7.
14-day quarantine hotel reservation services for foreigners
Book an isolated hotel room with 3-5* standards upon request.
Support shuttle bus from the airport to the isolated hotel which is disinfected and sprayed disinfectants safely.
A full package service of 14-days quarantine at a hotel on the list designated by the Ministry of Health.
Medical staff support: disinfect, provide protective clothing to move to the hotel.
Fully service breakfast/lunch/dinner in the room.
Medical test, 4 COVID tests according to instructions.
Currently, the Government has a policy to increase the number of quarantine hotels to welcome passengers on entry. Please contact hotline 84 1900 6654 or info@nhigia.vn for assistance with immigration procedures as well as safe and fast hotel reservation services!
>> Read more: Package prestigious Vietnam entry services for group of foreigners