The procedures for applying for entry into Vietnam for foreigners are quite complicated because they involve many departments, divisions and sectors. Therefore, Nhi Gia would like to share with you the details of the necessary documents for entry into Vietnam during the Government's Covid-19 prevention and control period.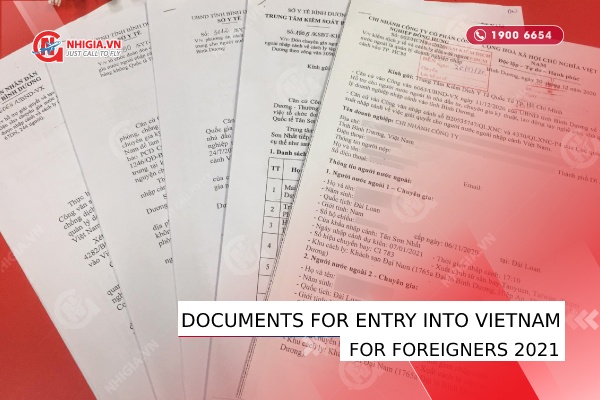 Table of Contents
Documents for entry into Vietnam for foreigners
Foreigners who are allowed to enter Vietnam are one of the following subjects:
+ Investors, experts, enterprise managers, skilled workers and their relatives;
+ International students in Vietnam.
+ Foreign relatives of Vietnamese citizens.
Currently, documents for entry into Vietnam for foreign citizens require more complicated papers and records compared to the time when the Covid started to break out. The document includes:
Approval letter for entry issued by the People's Committee of the province/city for foreigners.
Approval letter for quarantine plan and medical commitment of the Department of Health.
Valid international insurance of foreigners or inviting/sponsoring companies that covers the hospital fees if the foreigners are tested positive.
Certificate (with English language) of negative results for SARS- CoV-2 within 72 hours before departure from the competent health authority;
Booking for quarantine hotel, specialized medical vehicles to transport passengers from the airport.
>> See also: Entry services for foreign experts working in Vietnam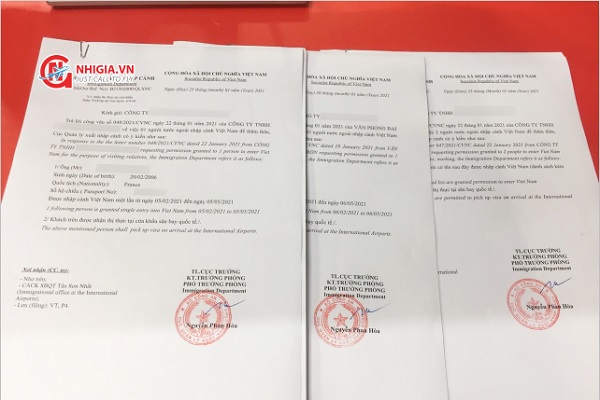 Nhi Gia supports the application for entry for foreigners
Nhi Gia promptly designs its own emergency entry service to help domestic enterprises that are having difficulty in preparing documents or carrying out procedures for sponsoring foreigners' entry into Vietnam. Why should you use our entry service?
Convenience: Full support in preparing documents and submitting documents, booking air tickets, quarantine hotels, medical vehicles to pick up passengers, etc.
Fast: Simple working process, minimizing time and effort.
Prestige: more than 15 years of experience with tens of thousands of entry applications
Cost effectiveness: The most reasonable costs and absolutely no other costs.
Diversity of options: Providing a list of flights with diverse prices, comfortable quarantine hotels for you to freely choose according to your needs.
Free: Consulting and answering all questions of customers 24/7.
Above is all the latest information about procedures and documents for entry into Vietnam for Vietnamese and foreigners. Please contact us via 84 1900 6654 or info@nhigia.vn for consultation and quote on Vietnam entry services.
>>Read more: Approval letter for entry into Vietnam and quarantine plan for foreigners