Many foreigners share with Nhi Gia Company about the refusal when they self-apply for Vietnam visa extension. To solve this problem, we would like to highlight some common mistakes foreign tourists may take when applying for visa extension and specify the accurate steps to apply for a visa.
Mistakes causing your application for Vietnam visa extension to be refused
In addition to the visa exemption and immigration priority policies, the visa application and extension procedures for foreigners are also constantly changing. It makes many difficulties for tourists when working with the Immigration Agency. Below are some mistakes that may cause the application for Vietnam visa extension to be refused.
+ Applying for extension too late. Foreigners should apply for visa extension at least 3 days before their visa expires.
+ The reason for entry is different from the one given when previously applying for the visa.
+ The given information is inaccurate or false:
Incorrect travel, work or study plans. Example: You apply for a visa extension for the purpose of studying abroad but the school has not yet accepted your application for admission.
The information on the documents does not match. May be the information in the application from the partner, workplace, school or company does not match with the information in the documents of the foreigner.
Using forged documents such as employment documents, transcripts or forged financial proofs to apply for visa extension.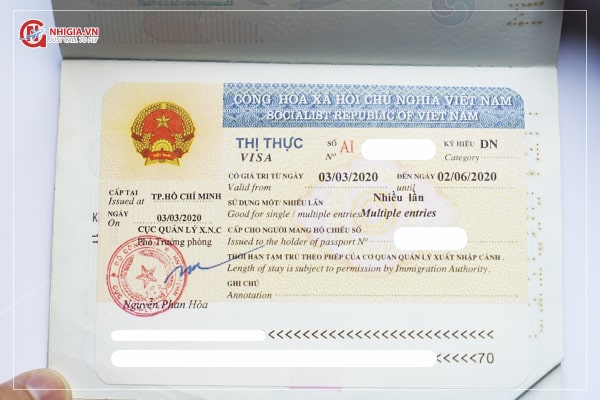 + Your application for visa extension has issues:
Bad comments from the company.
Traveling but getting fined multiple times for property theft or other social problems.
Poor transcripts, bad conduct.
+ Not providing full proofs or information related to the sponsoring unit, company or family relative.
+ Not having knowledge about the laws of Vietnam, not fully understanding the regularly changed regulations and processes of the Immigration Agency on visa extension for foreigners.
Refuse to extend visa as the purpose of extension is different from that of the current visa code
+ You cannot apply for a change of visa code: Vietnam Visa with DL code means you enter Vietnam for tourism reasons. However, if you want to extend visa for the purpose of working, you cannot apply for extension of your current visa. You need to apply for a new visa with DN or LD code.
In this case, you need to exit Vietnam and apply for a new visa for employment purposes.
+ Foreigner's visa is not allowed to be extended in the following special case: Visa with SQ code cannot be extended. With this type of visa, you can only leave the country, then apply for a different type of visa.
Subjects to be granted a visa with SQ code under Clause 3, Article 17 of the Law on entry, exit, transit, and residence of foreigners in Vietnam are prescribed as follows:
The head of the Vietnam visa-issuing authorities in foreign countries shall issue visas valid for no more than 30 days to foreigners wishing to enter Vietnam to conduct market surveys, travel, visit relatives and take medical treatment in the following cases:
Persons working with the Vietnamese visa-issuing authorities overseas and their spouses, children or persons who obtaining a written request from the competent agencies of the Ministry of Foreign Affairs of the host country;
Persons who have the sponsorship certificate of the foreign diplomatic mission or consular agencies of the host country.
The accurate procedures for Vietnam visa extension are as prescribed
Step 1: Completely fill out Form NA5.
Step 2: Submit the application with the required documents.
Step 3: Submit your application at the nearest Immigration Department.
Step 4: After about 5-7 working days, you may receive the visa extension results.
Hope the above information will help you avoid common mistakes when extending Vietnam visa. If you want to learn more about the procedures or need to extend your visa quickly, please contact Nhi Gia via hotline 841900 6654 or click on https://www.facebook.com/nhigia!
>> SEE MORE: