Foreign workers when entering to work in Vietnam are required to have a work permit and stay in Vietnam with a proper visa. After being granted a Vietnam work permit, a foreigner can be considered for being granted a temporary residence card for working (codes: LĐ1, LĐ2). The duration of stay of the temporary residence card for working is from 01 year up to 02 years, depending on the duration of the employment contract of the unit or enterprise in Vietnam.
Conditions for granting temporary residence card for working
To be granted a temporary residence card with the code of LĐ, foreign workers must meet the following conditions:
+ Passport of foreigners with validity period of more than 13 months. Because according to Clauses 1 and 4, Article 38 of Law No. 47/2014/QH13, the validity period of a temporary residence card is at least 30 days shorter than that of a passport or international travel document.
+ Using an proper entry visa (Vietnam visa), codes of LĐ1, LĐ2 or DN1, DN2.
+ Carrying out procedures for temporary residence registration at the commune or ward police station in accordance with regulations.
+ Having a work permit valid for at least 13 months.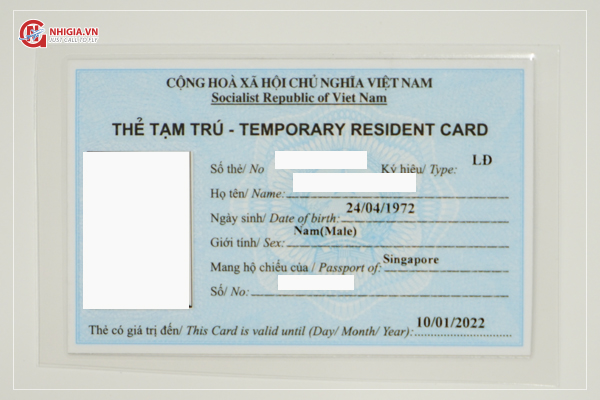 Form of foreigner's temporary residence card, code: LĐ
Application for temporary residence card for working
Documents to be prepared to apply for a temporary residence card with the code of LĐ for foreign workers (01 set) include:
+ Original valid passport as prescribed;
+ 02 2x3 photos, white background, taken within the last 6 months;
+ Temporary residence registration form confirmed by the police of the locality where the foreigner resides;
+ Written request for granting temporary residence card to foreigners, in form NA6;
+ Declaration to request for granting temporary residence card for foreigners, in form NA8;
+ Original work permit;
+ Legal documents of the sponsoring company, agency or organization, including: business license, investment certificate or certificate of establishment of a representative office, etc. where the foreign worker works in Vietnam.
+ Some other documents if required by the Immigration agency.
Procedures for applying for a temporary residence card for working
After preparing all documents, the units or enterprises employing foreign workers shall carry out administrative procedures at the agency competent to process temporary residence card applications.
Address for application submission:
+ Immigration Department - Ministry of Public Security; or
+ Immigration Office of the provincial or municipal police.
Receipt and processing of applications:
+ Upon examination of applications, the Immigration agency shall send a receipt to the applicant (Form NB7) and collect the state fee.
+ If the application is not valid, the receiving staff will guide to supplement the documents.
+ Processing time as prescribed: 05 working days from the date of receipt of complete and valid application.
Receipt of results:
The person who comes to receive the result must present a receipt, identity card or passport to check and compare to receive the temporary residence card results.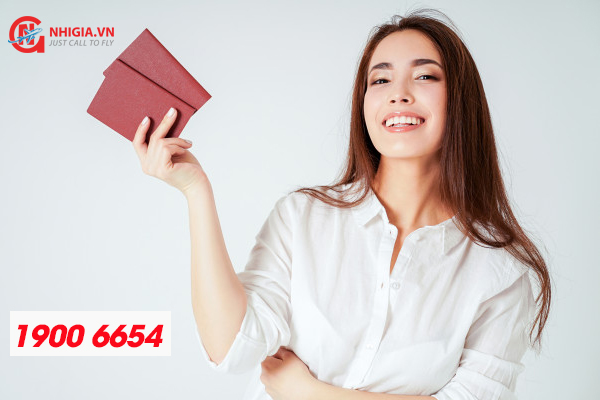 Temporary residence card service for foreigners is a fast - effective solution for businesses
Professional service of temporary residence card for working
Applying for a temporary residence card for foreigners will take a lot of time for preparation of documents, travelling and waiting at the Immigration agency. Moreover, the applicant must have knowledge of the law and related procedures. Instead of taking each step to obtain a temporary residence card by yourself, you can use a professional package of temporary residence card services in Nhi Gia.
With 15 years of experience in the field of services for foreigners, Nhi Gia is a long-term reputable partner of thousands of businesses in Vietnam. We commits to the customers:
+ Giving one-time quotation and the most competitive cost in the market.
+ Completing the documents and directly work with state officials on behalf of the enterprises.
+ Quickly handling difficult and urgent cases.
+ Giving support and advice on issues related to temporary residence card, work permit, entry into Vietnam, etc.
+ Ensuring time as well as information security for businesses and foreigners.
Please contact Nhi Gia via hotline 84 1900 6654 or info@nhigia.vn for timely support and advice on temporary residence cards for foreigners!