Certificate of work experience is one of the important papers of the application for a work permit for foreigners. According to the latest regulations, the foreign workers' certificate of work experience must indicate that the workers have worked for more than 03 years in a foreign country.
Cases requiring a certificate of work experience
The foreign workers may work in Vietnam in many forms. Each form requires different qualifications, work experience and skills. In general, most cases require 03 years' working experience in such positions and industries to be in charge in Vietnam or other respective fields abroad. Common forms of employment that foreigners need to provide experience confirmation to apply for a work permit in Vietnam include:
Performance of labor contracts;
Intra-corporate transfer;
Managers, executive directors, experts, technical workers;
Participation in the performance of bidding packages and projects in Vietnam.
Required information in the certificate of work experience for applying a work permit
Full Company Information: name, address, phone number.
Details of the person to be certified: full name, date of birth, nationality, passport number or personal identification number.
Working time: it is necessary to clearly specify the duration of work from which date to which date (or at least to have month and year). For example: Mr. A worked for our Company from April 01, 2007 to June 01, 2015 (or from April 2007 to June 2015).
Title/job assumed: clearly stating the position, title with explanation of the main tasks taking charge at the Company during the working time.
Notes:
Only confirm the working duration and positions at the Company that have actually worked, do not add the working duration or positions that the person to be certified has held or worked at another Company.
The signatory of the certificate must specify his position in the Company, for example: Director, Deputy Director ...
The certificate must bear the stamp/seal of the Company.
The certificate of foreigner's working experience must be legalized and certified at appropriate consular, translated into Vietnamese and notarized appropriately.
The information on the certificate of work experience is very important. In many cases, as the foreigners do not know clearly about these requirements, many applications for a work permit have been rejected, causing costly and time-consuming implementation.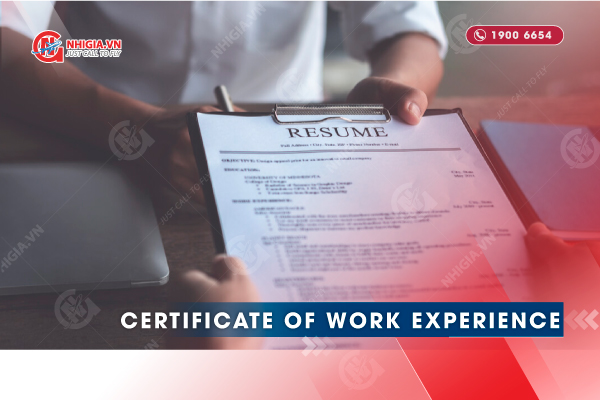 Nhi Gia offers a service package for work permit application
The process of applying a work permit includes many complicated documents. Not to mention, new regulations on work permits often change. Therefore, businesses that guarantee foreign workers will need to look for a service unit specializing in the field of Vietnamese work permits to get support with the quick and effective procedures, saving costs and time.
Understanding such difficulties, Nhi Gia provides a full service package for Vietnam work permit for enterprises. Such service package includes:
Providing free advice on issues about procedures and conditions related to work permits for foreigners working in Vietnam.
Providing instructions for compiling the necessary documents and papers to apply for a work permits for foreign workers.
Preparing documents to apply for criminal records.
Consulting and supporting medical examination procedures in Vietnam.
Providing translation, notarization, consular legalization service serving the issuance of work permits.
Representing the customer to perform procedures at competent state agencies.
Receiving and handing over results in person (no limit regard the delivery area).
With more than 15 years of experience in the field of processing the application procedures for foreigners, we are committed to the highest rate of applying for work permits for foreigners. Please contact Nhi Gia on the call center +84 1900 6654 to learn more about the service and receive the quotation for such package service!