Lost luggage at an international airport is probably the most frustrating thing you can think of, especially when you have just spent a few hours even a few dozen hours on the plane. Look at the people around you happily picking up your luggage at the carousel and then until it stops it still doesn't see your luggage. The thought after entry is that you can rest and enjoy the upcoming journey, but this incident arises. However, if you calmly follow the steps below, you will not need to worry.
What to do when losing baggage at the international airport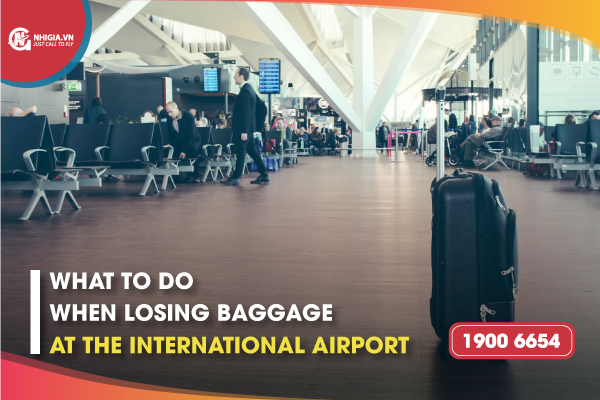 Find an airline representative
The first thing is that you shouldn't panic. Please calmly look to the airline representative to inquire about the flight responsible for transporting your checked baggage, ask staff to check whether it was mistaken or later than expected?
The airline will ask you to fill in the airline's prescribed form or help you find your luggage if you forget or lose it at the counter. Note that please keep the "baggage claim ticket" as a proof of your ownership and luggage registration data for the airline.
You can ask the airline to provide an extra copy of the information and get contact information for the person responsible for helping you.
Note a few questions:
- Where can luggage be located?
- Who can I contact for baggage status?
- When can I find luggage?
- If you find a luggage, can the airline transport it to your hotel?
Check-in hotel
In the case of lost checked baggage during the airline's transportation, it is better to check in at the hotel first because even staying at the airport will not solve the problem. You can temporarily buy a few essential items and return to the hotel to rest waiting for airline information.
Tracking information from the airline
Please contact us to update your luggage status. You may request a refund of checked baggage for that flight. Because the money you spend to ensure luggage is safe when you arrive, but the airline has lost a mistake so you absolutely deserve to be compensated.
Don't worry
It will be difficult to enjoy the trip in the situation of luggage loss. However, if you are too worried, you will miss good things. Be optimistic and rest assured that your luggage will be back soon. Don't forget to keep in touch with the airline. Everything will be okay!
For more information on immigration advice and assistance, please contact:
NHI GIA TRADING AND SERVICES CO. LTD
108/10 Vinh Vien, Ward 09, District 10
Hotline: 1900 6654
Email: info@nhigia.vn
Facebook: https://www.facebook.com/nhigia/
Website: https://nhigia.vn