Consular legalization is the certification of seals, signatures and titles by the Vietnamese competent authorities on foreign papers and documents. To better understand the consular legalization procedures and the notes for consular legalization, please refer to the useful contents below!
Table of Contents
What are the purposes of consular legalization?
To be legally recognized and used in Vietnam, the documents of foreigners must be certified by the competent authorities in Vietnam through the seal, signature and title written on the papers and documents.
Documents for consular legalization
The documents that need to be prepared for consular legalization include:
+ Consular legalization/certification declaration form LS/HPH-2012/TK (Access to e-portal on consular work, fill in all information, download and print out, attach other documents)
+ Passport or other valid documents to replace passport.
+ Papers and documents need to be consularly legalized.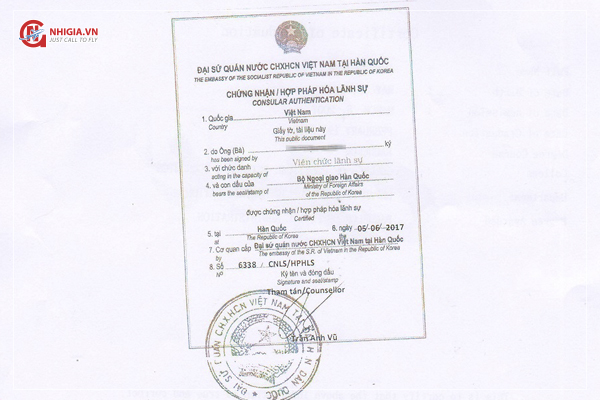 Certification of Consular Legalization
Process of consular legalization at the Consular agencies
Step 1: Prepare complete and valid application
Step 2: Submit application and fee.
Agencies to receive and process applications:
+ Consular Department: 40 Tran Phu, Ba Dinh, Hanoi.
+ Department of External Relations: 184 Bis Pasteur, Ben Nghe, District 1, Ho Chi Minh City.
+ Departments of Foreign Affairs of the provinces/cities.
Step 3: The diplomatic agencies will consider and process the application.
Step 4: The applicant will receive the results at the headquarters of the competent authorities according to the appointment schedule on the receipt.
Processing time for consular legalization
Depending on the regulations of each consular agency and the number of papers and documents, the processing time for consular legalization will vary. It is usually from 1 to 14 days.
Documents that cannot be consularly legalized
According to Article 10 of Decree No. 111/2011/ND-CP and Article 4 of Circular No. 01/2012/TT-BNG, there are 5 types of papers and documents that cannot be consularly legalized.
+ Papers and documents that have been altered or erased but not corrected as prescribed by laws.
+ Papers and documents with discrepant details or inconsistent with other papers and documents in the application for consular legalization.
+ Papers and documents that are forged, issued or certified by improper authority as prescribed by law.
+ Papers and documents with seals and signatures not directly stamped and signed on papers and documents. Seals and signatures copied in any form are not considered as original seals and signatures.
+ Papers and documents with contents that violate the rights and interests of the State of Vietnam and do not conform with the guidelines and policies of the State.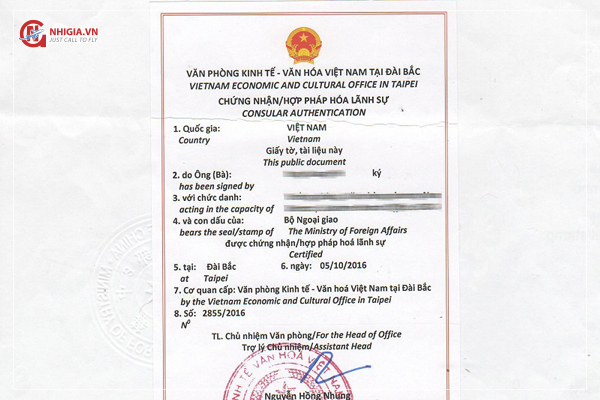 Consular legalization service at Nhi Gia
Prestigious and fast consular legalization service
Although the consular legalization process does not require many complicated documents, it takes time to travel and understand administrative procedures in Vietnam. Not to mention, in case of urgency, making legalization documents by yourself will take a lot of time and effort to travel. Therefore, using the consular legalization service is the most economical and convenient option.
Nhi Gia can help you prepare documents and carry out the procedures with the competent authorities. With over 15 years of experience in the field, we are confident to help customers legalize documents quickly, shortening the processing time as required. We will give reasonable costs for each case and strictly keep all customer information confidential.
Please contact Nhi Gia via hotline +84 1900 6654 or send an email to info@nhigia.vn for advice and support!