Along with the development of FDI enterprises, at present, the number of foreigners entering Vietnam to reside and work has increased rapidly. Businesses wishing to recruit foreigners to legally work in Vietnam must apply for visa, work permit and temporary residence card for them.
Apply for a visa to enter Vietnam
Vietnam visa, is a document issued by a competent authority of Vietnam, allowing foreigners to enter Vietnam. This is the first procedure to be carried out when an enterprise recruits foreigners to live and work in Vietnam.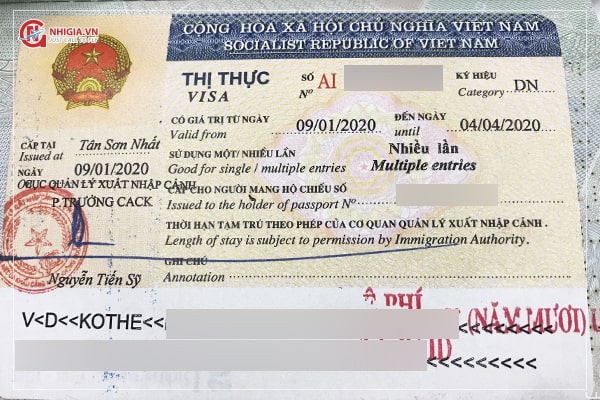 Foreigners entering Vietnam for working, business or investment purposes need to apply for visas corresponding to the symbols LD1, LD2, DN, ĐT1, ĐT2, ĐT3, ĐT4. Foreign workers can choose a single or multiple entry visa.
Process of applying for a working visa for foreigners:
Step 1: Enterprises in Vietnam carry out the procedures for inviting and sponsoring foreigners to enter Vietnam. Instead of performing complicated procedures by yourself, businesses can use the prestigious Vietnam visa service.
Step 2: The Vietnam Immigration Department will receive the application by sending back the entry approval letter to the enterprise. If not, there will be a written response stating the reason.
Step 3: The foreigners will apply for a visa at a diplomatic mission or international border gate (airport, land or sea border gate, etc.)
Nhi Gia Company will provide full package support for all procedures related to immigration documents and visas for foreigners.
Apply for a work permit to work legally
Foreigners who want to work legally for more than 3 months in Vietnam are required to have a work permit. Foreign investors are exempted from work permit, but they still have to apply for an approval of their employment demand and a certificate of exemption from a work permit.
Procedures for the foreign workers to legally work in a Vietnamese enterprise:
Step 1: The inviting or guaranteeing enterprise must carry out the procedures for explaining the demand for foreign workers to the competent agency.
Enterprises need to carry out the procedures to apply for the approval of the demand to use foreign workers at least 30 days in advance from the expected date of employment.
Step 2: Carry out procedures to apply for a work permit.
At least 15 working days from the date the foreign worker is expected to start working, the enterprise must submit a work permit application to the competent authority.
If you want to apply for a work permit quickly, yet do not need to pay attention to legal procedures, call Nhi Gia on hotline +84 1900 6654 for assistance.
Apply for a legal temporary residence card
The temporary residence card allows foreigners to reside in Vietnam in a long-term and can replace a visa. For each type of temporary residence card, there will be a different period of stay. The maximum period of stay is 10 years, upon the expiration of the period, the employee may be considered for a new one.
Process to apply for temporary residence card for foreigners:
Step 1: The enterprise prepares a complete set of documents required by the immigration authority.
Step 2: Submit the application, and, within 5-7 days, you will have the results returned.
Above are all procedures that the enterprises have to carry out to invite and guarantee for foreign workers to reside and work in Vietnam. With 15 years of experience in the field of legal proceedings for foreigners, Nhi Gia will answer and fully support the attached services.
Call us immediately via the call center +84 1900 6654 or send a message via Facebook Fanpage at https://www.facebook.com/nhigia, a team of specialists will directly advise and give instruction to complete the application for visa, work permit and temporary residence card for you.