Vietnam student visa is a document issued by a competent authority of Vietnam for foreigners to enter Vietnam for the studying or internship purposes. Vietnam student visa has the code: DH.
Requirements for applying for a Vietnam student visa for foreigners
According to Article 10, Law No. 47/2014/QH13 on entry, exit, transit, and residence for foreigners in Vietnam, the provisions on conditions to be granted a visa are:
Foreigners must have a passport or a valid document for international travel;
They must have been invited or sponsored by agencies, organizations or individuals in Vietnam;
Not subject to the cases ineligible for entry specified in Article 21 of this Law;
When applying for a visa, the following special subjects must have documents that prove the purpose of entry: Foreigners who come to study must have admission documents of schools or educational institutions of Vietnam.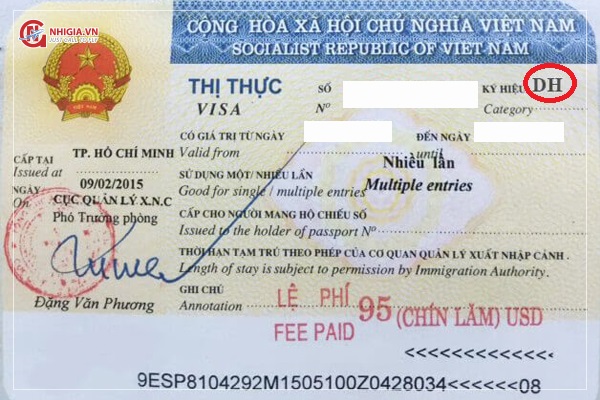 Validity period of Vietnam student visa
According to Clauses 4 and 8, Article 9 of the Law No. 47/2014/QH13 on entry, exit, transit, and residence for foreigners in Vietnam, it is prescribed that:
+ The validity period of the student visa is at least 30 days shorter than the validity period of the passport or international travel document.
+ The validity period of DH visa is maximum 12 months.
Also according to Clause 2, Article 36, Law No. 47/2014/QH13:
+ Foreigners entering Vietnam with a DH visa can be granted a DH temporary residence card.
Entry process with foreigners using Vietnam student visa
To enter Vietnam with a student visa, foreigners need to complete the following 2 steps:
Step 1: Applying for a Vietnam approval letter on arrival - Purpose of entry to study abroad.
This is an important step if you want to apply for a student visa. In order to obtain the approval letter on arrival, the sponsoring individual or unit in Vietnam shall submit an application at the Vietnam Immigration Agency to express its consent to allow the foreigner to enter Vietnam.
Step 2: Carrying out the procedures to receive the student visa for foreigners.
Foreigners shall come to Vietnamese embassies or Consulates abroad, Vietnam's international land border gates or international airports receive Vietnam student visa. The place to receive a Vietnam visa is based on the approval letter on arrival approved by the Vietnam Immigration Department.
Procedures for applying for a Vietnam student visa for foreigners
To applying for a student visa, you need to prepare the following documents:
+ Information of foreigner's passport with the remaining validity period of more than 1 year.
+ Visa application form at the request of the Immigration Agency.
+ Admission document of the school or educational institution of Vietnam.
Time to process the application is 05 working days from the date of receiving the visa application form.
In fact, the procedures for applying for a student visa to enter Vietnam are quite complicated because it is necessary to prove many types of documents related to the sponsoring individuals/units. In order to solve the difficulties when foreigners enter Vietnam for the purpose of studying abroad or internship, Nhi Gia Company provides a full-package service of preparing documents such as:
+ Approval letter on arrival (invitation letter), entry visa.
+ Visa extension, temporary residence card, certificate of criminal records.
+ Work permit, health certificate, consular legalization.
With 15 years of experience in the field, Nhi Gia is confident to bring customers the most perfect service experience. Please contact us via hotline 1900 6654 or click on https://www.facebook.com/nhigia for free consultation on Vietnam student visa!