What is VR Vietnam Visa or VR visa? What are the procedures for applying for a VR visa? Let's find out now in this article.
What is VR Vietnam Visa?
According to the provisions of Article 8 of Law No. 47/2014/QH13 on entry, exit, transit and residence of foreigners in Vietnam, specifically, VR Vietnam visa is a type of visa granted to foreigners entering Vietnam to visit relatives (grandparents, parents, spouses, children, etc.) or for other purposes.
Clause 3, Article 9 of this law also stipulates that the VR Vietnam Visa has the maximum duration of 6 months and single-entry or multiple-entry. Besides, foreigners are not allowed to change their entry purpose.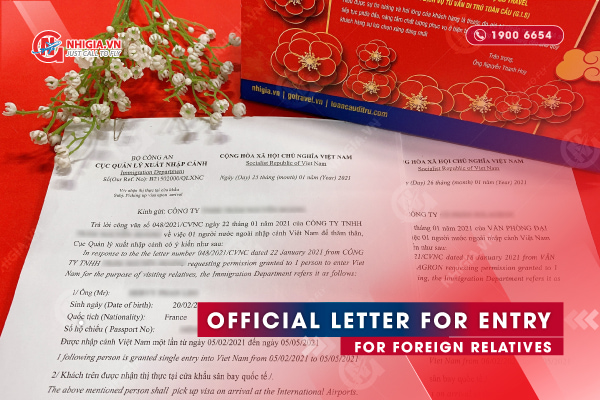 Conditions for being granted a VR visa to visit relatives
Conditions for foreigners to apply for VR Vietnam Visa are similar to those when applying for other types of visas specified in Article 10, Law No. 47/2014/QH13, including:
Having a passport or international travel document
Being invited or guaranteed by an organization established in Vietnam
Have an inviting or sponsoring agency, organization, or individual in Vietnam. Foreigners are allowed to legally enter Vietnam according to the law on exit & entry.
Vietnam VR visa applications & procedures
To apply for a VR visa, foreigners need to apply for an official letter for entry or an entry approval letter. The following documents shall be prepared:
Passport with the remaining validity of at least 6 months
Application for Vietnam Approval Entry Letter.
Papers proving the personal relationship between the foreigners and the sponsors such as birth certificate, marriage registration certificate, family relationship certificate, etc.
Information about the trip: time of entry, the place to receive visa, round-trip air tickets, trip schedule, etc.
Other relevant documents.
The processing time is from 5-7 working days. In case the documents are insufficient or the additional documents are required, it will take longer.
After receiving the approval entry letter, the foreigner completes the VR visa application procedure and receives the visa at the Vietnamese Consulate General where foreigner lives or receives the visa directly at the international border gate when entering Vietnam.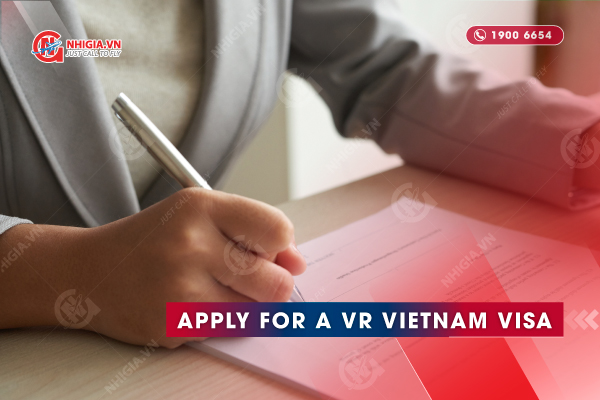 Dossiers to apply for VR visa include:
Application form for visa for foreigners
Passport valid for more than 6 months from the intended date of entry
02 4x6cm white background photos taken within 6 months
A copy of the approval entry letter
VR visa stamping fee
>> For advice on those application procedures, contact Nhi Gia immediately via the hotline at [+84] 1900 6654, our visa staff with nearly 20 years of experience will assist you quickly!
VR visa fees granted to foreigners
Based on the number of entries and the length of stay, foreigner must pay different fees. According to Circular No. 25/2021/TT-BTC on regulations on VR visa fee collection, specifically:
Issuance of single entry visa: 25 USD/pcs
Visa for less than 3 months with multiple-entry: 50 USD/pcs
Visa for 3-6 months with multiple-entry: 95 USD/pcs
This fee can be paid directly in USD or VND, but when paying in VND, it will have to be based on the exchange rate at the time of fee payment.
Nhi Gia supports to apply for a visa to visit relatives for foreigners according to the Government's directive
Nhi Gia understands your difficulties while conducting the VR visa procedures as well as preparing documents, we offer time-saving and cost-saving entry services.
With more than 20 years of accompanying different companies in Vietnam, we commit to offering quality service. Moreover, we on behalf of the enterprises, carry out all necessary procedures to help foreigners enter Vietnam as soon as possible.
A team of professional visa specialists, knowledgeable about the law, and timely updated on immigration policies.
Complimentary consultation support 24/7 and answer all the questions for each specific case
Complete the application procedures for a VR visa following the requirements of the Immigration Department with the highest pass rate.
Support for difficult cases or apply for an urgent visa on request
Reasonable and transparent service costs
Commitment to the confidentiality of all customer information
In addition, Nhi Gia supports customers with other services upon request: Visa Extension, Work Permit, Temporary Resident Card, Criminal Record, etc. If you have any questions about Vietnam entry visa services as well as VR visa, please contact us directly via the hotline at [+84] 1900 6654 or info@nhigia.vn!