Foreigners who are residing and staying in Vietnam and want to enter Malaysia must apply for a visa if their nationalities are not on the list of countries which are subject to visa exemption. So, what are the requirements and documents to be prepared to apply for a Malaysia visa for foreigners in Vietnam?
The Malaysian government exempts visas for citizens of some countries
Citizens of Vietnam, along with 151 other countries/territories, are exempt from visa when entering Malaysia on condition that the passport is valid for at least 6 months, specifically:
Nationals exempt from Malaysia visas with validity period of 90 days
Egypt, Japan, Jordan, Kuwait, Kyrgyzstan, Lebanon, Maldives, Morocco, New Zealand, Oman, Peru, Qatar, South Africa, Saudi Arabia, South Korea, Sudan, Tunisia, Turkey, Turkmenistan, Albania, Algeria, Argentina, Australia, Bahrain, Bosnia and Herzegovina, Brazil Canada, Cuba, UAE, USA, Uruguay, Yemen, Syria, Norway, Iceland, San Marino, Switzerland, Vatican City, Monaco, Liechtenstein, Austria, Belgium, Denmark, Czech Republic, Estonia, Finland, France, Germany, Greece, Hungary, Italy, Latvia, Lithuania, Luxembourg, Malta, the Netherlands, Poland, Portugal, Spain, the Netherlands, Sweden, Slovenia, Slovakia.
Nationals exempt from Malaysia visas with validity period of 30 days
Andorra, Antigua and Barbuda, Armenia, Azerbaijan, Bahamas, Barbados, Belarus, Belize, Benin, Bolivia, Botswana, Brunei, Cambodia, Cape Verde, Chad, Chile, Comoros, Costa Rica, Dominica, Dominican Republic, Ecuador, El Salvador, Fiji, Gabon Gambia, Georgia, Grenada, Guatemala, Guinea, Guyana, Sierra Leone, Somalia, Haiti, Honduras, Hong Kong, Indonesia, Iraq, Jamaica, Kazakhstan, Kenya, Kiribati, Laos, Lesotho, Macau, Macedonia, Madagascar, Malawi, Marshall Islands, Mauritania, Mauritius, Mexico, Moldova, Monaco, Mongolia, Namibia, Nauru, Nicaragua, Palau, Palestine, Panama, Papua New Guinea, Paraguay, Philippines, Russia, Saint Kitts and Nevis, Saint Lucia, Saint Vincent and the Grenadines, Samoa, São Tomé and Príncipe, Senegal, Seychelles, Singapore, Solomon Islands, South Sudan, Suriname, Swaziland, Taiwan, Tajikistan, Tanzania, Thailand, Timor-Leste, Togo, Tonga, Trinidad and Tobago, Tuvalu, Uganda, Ukraine, Uzbekistan, Vanuatu, Vatican City, Venezuela, Vietnam, Zambia, Zimbabwe.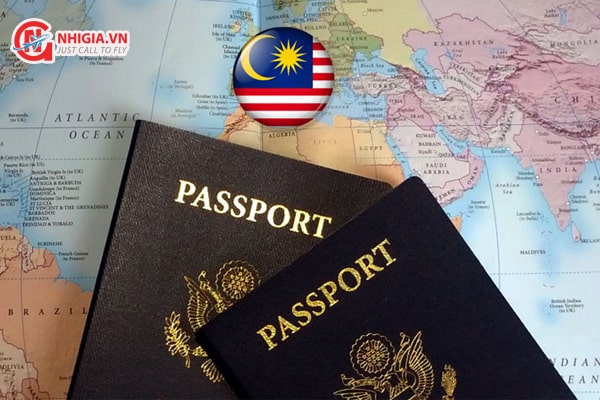 Malaysia is a country with diverse ethnicities and cultures in Southeast Asia
Nationals exempt from Malaysia visas with validity period of 14 days
Iran, Libya and the owners of the Macao Special Administrative Region Travel Permit.
Nationals eligible for Malaysia eVisa, the length of stay is from 15-30 days depending on the visa type
Bhutan, Bangladesh, China, India, Montenegro, Myanmar, Nepal, Pakistan, Serbia, Sri Lanka. Nationals of China and India having visas of three countries: Indonesia, Singapore and Thailand and flying directly from these three countries to Malaysia can obtain a visa on arrival with a stay of 7 days (not extended) at the international airports in Kuala Lumpur, Johor Bahru, Kota Kinabalu, Kuching and Penang.
Requirements for applying for a Malaysia visa for foreigners in Vietnam
Foreigners must meet the following requirements:
+ Passport valid for over 6 months.
+ Valid Vietnamese visa or temporary residence card.
+ Work permit.
+ Sponsoring units and enterprises in Vietnam.
Malaysia visa application for foreigners in Vietnam
The following documents should be prepared when the foreigners apply for a Malaysia visa:
+ Original passport valid as prescribed;
+ Valid Vietnam visa or temporary residence card;
+ Two 4x6cm color photos with white background taken within 6 months;
+ Visa information declaration.
In addition, there are also a number of other documents:
+ Bank account statement for the last 3 months.
+ Work recommendation letter.
+ Vietnam work permit.
+ Invitation letter to visit relatives.
+ Confirmation of flight tickets, hotel reservation.
Note: The above documents are for reference only. To know the specific documents for each case such as travel, business, work, visiting relatives, etc. please call Nhi Gia via hotline 1900 6654.
Address for submitting Malaysia visa applications for foreigners in Vietnam
After preparing all documents, please submit at Visa Facilitation Services (VFS) Global:
+ In Hanoi: Floor 3, Gelex Building, 52 Le Dai Hanh Street, Le Dai Hanh Ward, Hai Ba Trung District.
+ In Ho Chi Minh City: Floor 4, Resco Building, 94 – 96 Nguyen Du Street, Ben Nghe Ward, District 1.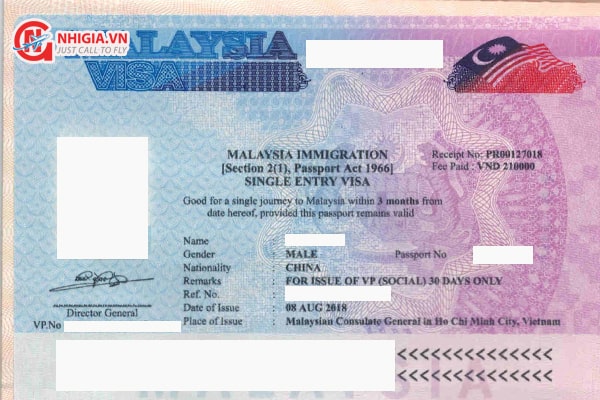 Malaysia visa for Chinese nationals
Malaysia visa processing time for foreigners
Normally, Malaysia visas for foreigners in Vietnam are valid for 3 months. The visa holders are allowed to enter one time or multiple times, stay up to 90 days for single entry visas and 30 days for multiple entry visas.
Application processing time is from 4 – 5 working days.
Making a Malaysia visa application for foreigners at Nhi Gia
Do you have demand to apply for a Malaysia visa for foreigners? Let Nhi Gia assist you with the administrative procedures to apply for a Malaysia visa for foreigners in Vietnam.
With 15 years of experience in successfully processing thousands of visa applications for foreigners, Nhi Gia commits the highest approval rate up to 99% + one-time quotation and without intermediaries, so the application is time-effective and cost-effective. Contact us at 1900 6654 or click on https://www.facebook.com/nhigia for free consultation on documents and services!