Foreigners have relatives who are Vietnamese citizens or are working in Vietnam, they can apply for a TT visa. This visa will help them to enter Vietnam and visit relatives if they are eligible. So how to successfully get a Vietnam TT visa?
>> To learn more about how to apply for a Vietnam visa with TT symbol, please refer to the article below!
What is a TT visa? The object is eligible to grant this visa
TT visa, also known as a Relatives visa, is granted to foreigners whose relatives are Vietnamese citizens or foreign relatives who are working and living in Vietnam.
Specifically, according to Article 8 of Law No. 47/2014/QH13 and Law No. 51/2019/QH14 on amendments and supplements, TT visa is approved and granted to the following subjects:
Foreigners who are spouses and children under 18 years old are granted visa with symbols LV1, LV2 (Work visa); LS (Lawyers visa); DT1, DT2, DT3 (Investor visa); NN1, NN2 (Vietnam visa for foreign organization); DH (Student visa); PV1 (Journalist visa); LD1, LD2 (Work visa).
Or foreigner is the father, mother, wife, husband or child of a Vietnamese citizen.
In addition to the TT visa, foreigners who enter Vietnam for the purpose of visiting relatives can also apply for a VR visa. For detailed information about VR visa, please read the article "Vietnam VR visa? VR Visa application form"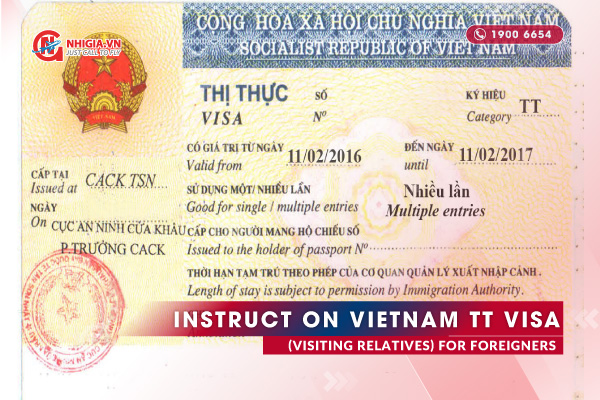 Vietnam TT visa
How long does the duration of the TT visa take?
TT visa is issued to foreigners with a maximum duration of 1 year. For TT visa, foreigners can apply for a Single-entry visa or Multiple-entry visa depending on their purpose.
Besides, foreigners who have a Vietnam TT visa will be issued Temporary Residence Card for visiting relatives with the same symbol as the visa and a length of stay is up to 3 years
Notice:
Depending on each specific case, the Immigration Department might issue the visa with a shorter duration compared to the allotted time under the Law or the requested time from the applicants.
Foreigners who want to stay in Vietnam for more than 1 year, should apply for a temporary residence card for visiting relatives
Conditions to get a Relatives visa for foreigners
To get a TT visa, foreigners must meet all the requirements below:
Relatives living in Vietnam guarantee
Have documents to prove the personal relationship between the foreigner and the sponsor
Have a passport or valid international travel document
Foreigners have not been banned from entering the country specified in Clause 3, Article 17 of Law 47/2014/QH13
Apply for Vietnam TT visa procedure
To grant a TT visa, foreigners must have an Approval Entry Letter or invitation letter with the purpose of visiting relatives. After getting one of those papers, foreigners must prepare the required documents to apply for TT visa.
Guarantee documents:
Copy of applicant's passport
Application form for Approval Entry Letter into Vietnam according to current regulations
Documents proving the relationship between the visa applicant and the sponsor: birth certificate, marriage certificate, family relationship certificate, ...
Notarized copy: Temporary residence card / Citizen ID / Passport of the guarantor,...
Information about the trip: expected date of entry, place to receive visa,...
Letter of introduction to the person who goes through the visa procedures at the Immigration Office
And other relevant documents at the request of the Immigration Department
Notice:
Depending on each case, the documents for sponsoring foreigners' relatives to enter Vietnam will have different requirements.
The processing time for the entry dispatch is 5 working days, up to 7-10 days.
>> For assistance in applying for an Approval Entry Letter, please contact [+84] 1900 6654 for instructions on a case-by-case basis
Documents for TT visa:
Original passport valid for more than 6 months and has at least 2 blank pages
Visa application form
02 photos of size 4x6cm, taken within 6 months
Hard copy of Approval Entry Letter into Vietnam
Vietnam visa application fee
After preparing all documents, foreigners go to the address specified on the Approval Entry Letter to be stamped with TT visa. Nowadays, foreigners can apply for visa stamping at Vietnamese consulates abroad or at international border gates upon entry.

TT visa application fees
Depending on the number of entries and the duration of the visa, foreigners will have to pay different visa fees. According to the regulations of the Ministry of Finance, the specific fees for visa issuance for foreigners are as follows:
1-month single entry visa, 3-month single entry visa: 25 USD/pcs
Visa types with validity of no more than 03 months: 50 USD/pcs
Visa types with validity from more than 3 to 6 months: 95 USD/pcs
Visa types with validity from more than 06 months to 12 months: 135 USD/pcs
Prestigious - professional Vietnam TT visa service in HCM City
Above is the basic information as well as how to carry out the procedures to apply for a TT visa. Through this article, we hope that this helps you understand this visa category as well as how to apply for TT visa.
If you want to apply for this type of visa but you don't have time or don't understand clearly about it, contact Nhi Gia immediately to use Vietnam visa package service.
With nearly 20 years of experience in this field, we are proud to be a reputable Vietnam visa service provider in Ho Chi Minh City. We commit to helping you complete the documents in the most accurate way to receive the TT visa with the highest pass rate.
Nhi Gia offers the following services for foreigners:
Approval Entry Letter application service for foreigners
Apply for a Vietnam visa for a short-term / long-term according to the purpose: Tourism, Visiting relatives, Business, Working,...
Vietnam visa extension service
Support services for foreigners: temporary residence card, work permit, notarized translation of documents, booking air tickets,...
Contact Nhi Gia immediately for advice and support from visa experts:
Address: 186 - 188 Nguyen Duy, Ward 9, District 8, City. Ho Chi Minh
Hotline: [+84] 1900 6654 - [+84] 906 736 788
Email: info@nhigia.vn